Machining, Welding & Manufacturing Shop in Nisku
Nisku machine shop serves Alberta's oilfield, construction & agricultural industries
Elevator - Manual Tong Recertification; Another RS Machine Specialty
R.S. Machine and Manufacturing rebuilds all makes and models of tongs, elevators and bail links in their machine shop to CAODC specifications. Onsite load testing is done on all components to assess their safety and quality. MPI inspection is done onsite, along with third party engineer certification. When certified, these parts can operate safely for the regulated number of working days.
R.S. Machine and Manufacturing also rebuilds Kelly drive bushings, split bushings, drill pipe and collar slips.
BOP Component Repair - Not Available at Just Any Nisku Welding Shop
R.S. Machine and Manufacturing rebuilds all types of Blow Out Preventers (BOP) for a variety of BOP service and recertification facilities. ALL BOPs are repaired to OEM standards, dimensionally inspected, stress relieved and sand blasted. MPI and NACE inspections are done onsite by independent inspection companies. Radiographic inspection is also available upon request.
With our years of experience, we have been able to develop procedures that provide quality service while remaining cost effective.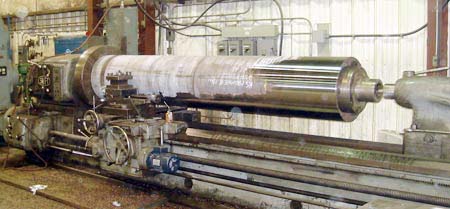 We take great pride in our abilities
and our quality.
We stand behind
our work!
Custom Machining and Welding Shop in Nisku
R.S. Machine and Manufacturing does custom, general and oilfield welding and machining. The company is staffed with qualified, innovative journeymen and B Pressure welders, as well as journeymen machinists.
Our welding department is equipped with computerized cutting tables, mig, tig and stick welding, as well as sub arc. Our machines are capable of turning up to 84" diameter and 18 feet of length.
We run a complete line of CNC machines capable of 'one of' or production runs for construction, plant and production components for most industries.
 
More than a Mere Machine Shop, Nisku's RS Machines Also Means Manufacturing 
R.S. Machine and Manufacturing makes and markets several oilfield related products and components, including:
RSM Flex Sliphandles - designed and manufactured on site and shipped world wide
RSM Kelly Drives - (4KRVS equivalent) in 4 & 8 roller configurations, along with rollers, washers and shafts for all sizes and models.
Tong parts - tong pins and hangers for all makes and models
BOP components - all makes and models
Swabbing Tool Trap (Frontier) - parts, repairs and third party manufacturing